Coach G's Fitness Success Stories from Real, Happy Clients
Karen West | Personal Training | Mom of Four

The main difference with Giulia and what sets her apart is the relationship. She wants to build and have a relationship with each of her clients. Any trainer can have you show up, and give you sets and exercises to do, run you through them, and you are done. This is not Giulia. G strives to establish relationships with these kids/teenagers ao she can learn what their goals and aspirations are, and help them achieve them. Read the full Client Spotlight.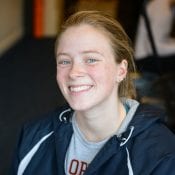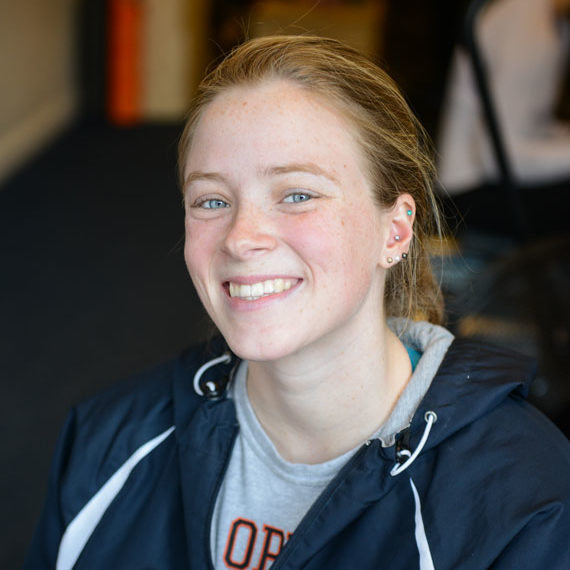 Olivia E. | Personal Training, Swimming

AGE: 18

What inspired me to work with G was wanting to get stronger and faster in the water. G is such a great coach and really inspires me to push myself to do my best. She has such a great energy which makes me enjoy working out more. I have been training with G for 2 years. I started when I was a junior in high school and now I am a freshman in college. I love personal training! Working one on one with G is amazing and she really connects with you and helps you achieve your goals. Training with G is the absolute best. She is such a great person and trainer. She is a great role model and helps you set your goals and achieve them.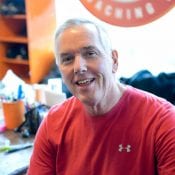 Mike H. | Personal Training

I have been working out with Giulia for many years now and am convinced that she is a major reason for my good health and my ability to keep up with six small grandchildren. She is extremely knowledgeable and easily adjusts my routine to accommodate any injuries or discomfort. An overall amazing person!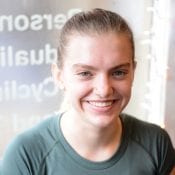 Ella R. | Personal Training | Amherst College Track and Field

AGE: 18

I was constantly getting injured and was feeling depressed as an athlete. I wanted to feel confident in my athletic abilities. I have been training with G for 2 years. I love working out here. It's therapy and exercise all in one. I love tracking my progression, learning from my failures, and celebrating my accomplishments.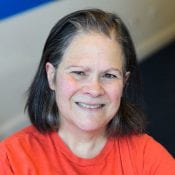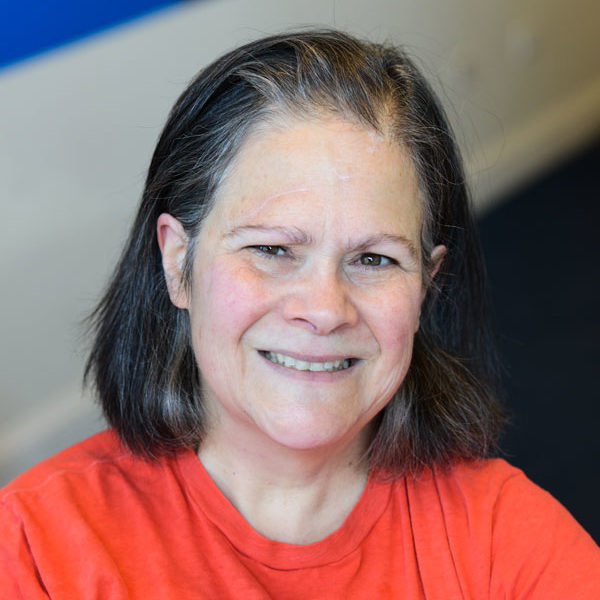 Marie M. | Personal Training

AGE: 58

When I first started seeing Giulia in 2014, I was at a low ebb: depressed, out of shape, discouraged. It took me awhile to find my groove. Giulia encouraged me every step of the way. In the last seven months, I have lost more than 50 pounds, regained mobility, and gained new confidence in myself. I'm a beast, yo! I love coming here. I love training among athletes of all ages, to an ever-changing soundtrack, with dogs to help when my motivation flags. It makes me feel alive! Training with G at her studio is a blast. I'll be honest, getting here by 6:30 am is hard on some mornings. But I always feel better for having done it.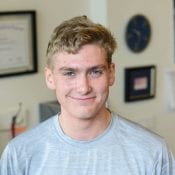 Henry Q. | Personal Training, Rowing | Saint Ignatius Chicago Rowing

AGE: 17

I started training with G because I wanted to get faster on the erg and in the boat to get recruited to row in college. I have been training with G for one year. The personalized training has been great for me. I found myself in a rut and not getting faster. The personalized training plan allowed me to do what's best for ME to get faster. It is a great way to achieve YOUR goals. Not only the training plan, but the mental encouragement and advice have been some of the highlights of my past year. Coach G rocks!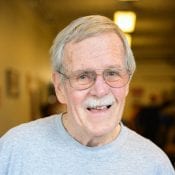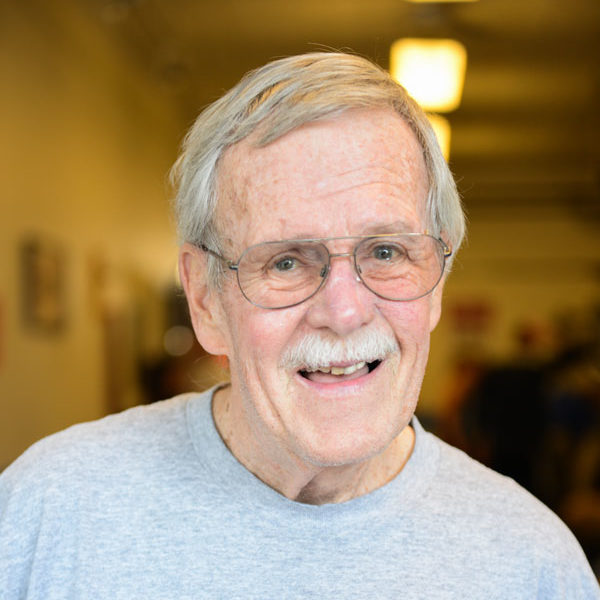 Joe | Cycling, Personal Training

AGE: 71

In all honesty, I had to be dragged 'kicking and screaming' to Giulia. In the first 71 years of my life, I have managed to avoid a personal trainer. My wife talked me into it. I went to Giulia to prepare for my first-century bike ride (one of those bucket list things) and got so much more. I totally changed my diet and my thinking about nutrition, lost 35 lbs, got physically stronger than I have been in years…and did the century with ease. Seldom in life do we experience such unexpected personal transformations.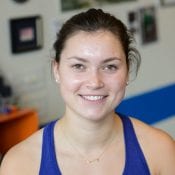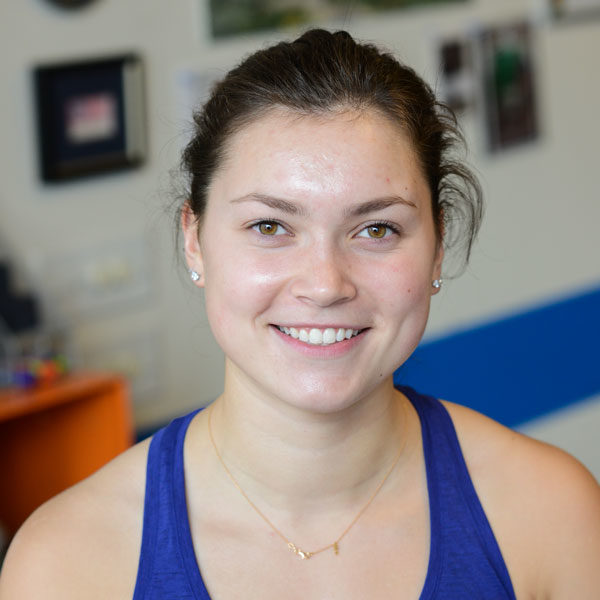 Lucy J. | Personal Training, Rowing | Smith College Crew

AGE: 18

I started training with G over a year ago to increase my chance of rowing collegiately and to gain strength and confidence. Through G I have been given a personalized training plan that caters to my sport and body specifically. Training with G has had significant positive impacts on my strength and mindset, and I am excited to continue working with G.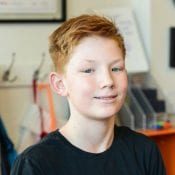 Code P. | Personal Training

AGE: 12

I came to Coaching by G so I could be a faster swimmer. I have been coming here for about one year. I think personalized training helps you a lot in your sport. My time in the studio makes me tired and strong.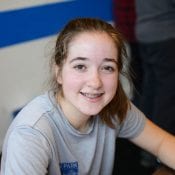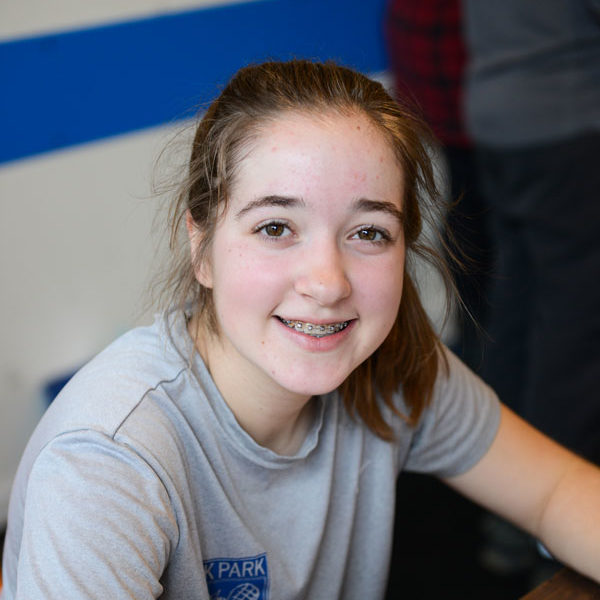 Cate S. | Tennis | OPRF Tennis

AGE: 15

After being injured over the summer, I knew that I could either go to physical therapy or work out to get my strength back. I have been training with G for two months. I play tennis all year round and I would like to get my strength up all around to become a stronger player. I like being able to do workouts that I like and that will help me with day to day activities. I like the people and the environment. G is the one to see!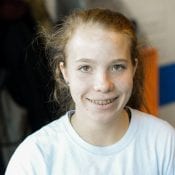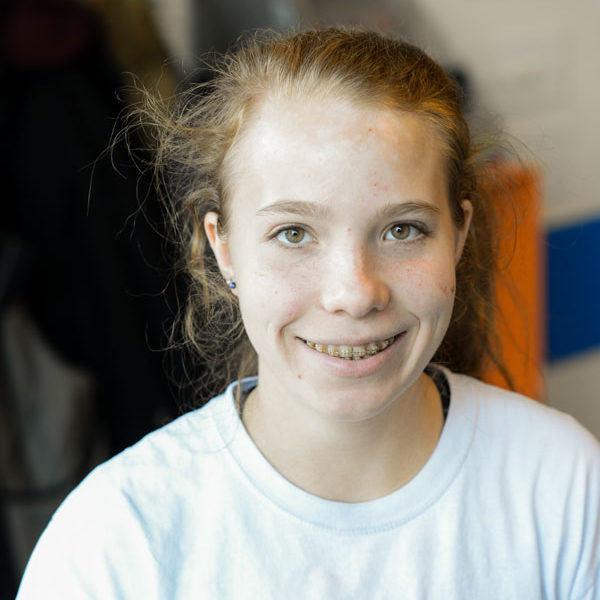 Emilia E. | Personal Training, Soccer

AGE: 17

I am a soccer player who gets injured frequently. I had heard about Coaching by G from a friend and I decided to give it a try. I have been training with G for 3 years. My goal is to become stronger which will hopefully help me improve in soccer and also decrease the chances of getting injured. I really enjoy coming in to train.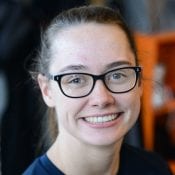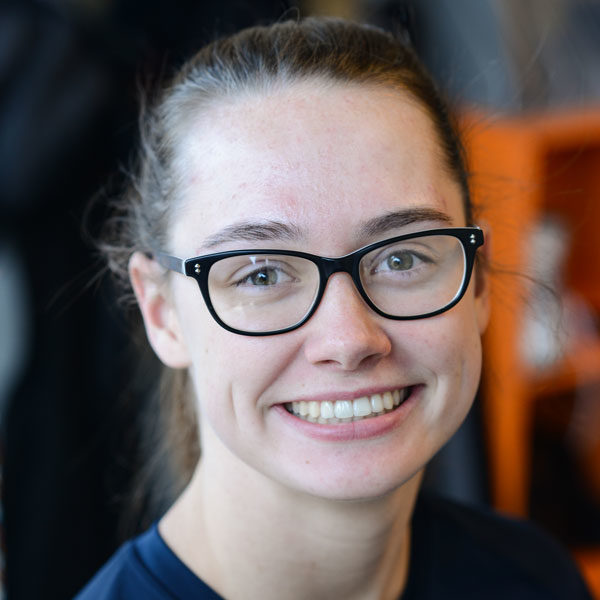 Brooke, Blaire, Liam & Brynne W. | Hockey, Lacrosse, Rowing, Swimming

AGE: 19, 17, 16, 14

We were inspired by members of the community that had very encouraging reviews of Coach G. Brooke is now swimming at The United States Naval Academy. Blaire currently rows with the Chicago Rowing Foundation. Liam has been a hockey player since age 5, and also lacrosse player in recent years. Brynne is a AAA hockey player. The family has trained with Giulia for over 4 years now.
Lucy G. | Personal Training, Softball | Midwest Machine Softball, OPRF Softball and Volleyball

AGE: 14

I knew professional training would help benefit me in sports which would help me reach my goals. I have been training with G for a few months. My goal is to play Division 1 softball in college. Training here makes me feel like I am getting somewhere. I feel like I am making progress to beat my competition and achieve my goals.
B.K. | Personal Training, Running

Giulia trained me for my first marathon a couple of years ago. She went above and beyond as a trainer and I left the experience with invaluable lessons that have served me well, not only in athletics, but in my everyday life. Proper training, the importance of nutrition, the need for rest (!) and most importantly, we are capable of doing MUCH more than we think. For these Giulia, I thank you!
A Happy Client

Giulia is an outstanding trainer who showed me time and again that she is truly dedicated to my success. Not only is she fun to work with, but she knows ho to push me beyond my limits with a masterful blend of firm yet gentle encouragement. Her academic background, combined with her own personal experiences, makes her a credible source of nutrition and exercise advice, and I've really valued this part of our work together.
A Happy Client | Strength Training

I feel like I have my life back since I have been working with Coach G. I have trimmed off 50 lbs in the past year. I am so much stronger than I have ever been. I am doing things I would have never thought possible before. Coach G also gave me a great nutrition plan that I still follow today. It is a plan I can live with long term. I am still working on losing more and getting stronger. G has been so motivating for me. Coach G is tremendously knowledgeable in all areas of exercise and nutrition. Coach G's plan for me was personalized and extremely effective. G changes it up frequently and pushes you to the next level. I have never had a boring work out. She is everything you would want in a coach. I have even brought my children to workout with her as well.
A.C. | Personal Training

I was skeptical when I started. I've used other trainers who simply walk from exercise to exercise counting my reps while adding no value to what I'm doing. G has been great – she customized the workouts to my needs, she works on my form, she has coached me through three injuries, and she has helped me understand what each part of my workout is trying to achieve. She really understands the theory, science and mechanics of physical fitness.
Dana C. | Personal Training

Giulia is an outstanding trainer. She has guided and encouraged me to reach my goals through workouts and nutritional counseling. Her knowledge of how our body and our mind responds to exercise has an all over impact on quality of life. Not only does she take my workouts seriously but she does so with humor and a motivational spirit. Calling Giulia for my first appointment a year ago was one of the best calls I've made!
A Happy Client

Giulia has transformed our whole family. She is very smart and flexible in her approach and has been able to meet everyone in our family from our 10 year old to our 55 year old bike racer where they are and move them to a better physical place. She is very systematic and can keep you completely engaged. I would highly recommend her services to anyone.
J. C. | Cycling

Giulia has been a partner in our entire family's fitness and nutrition needs for over two years. In this time she has counseled our daughters on their nutritional needs as student athletes, and my wife and I worked with Giulia for the development of personalized, goal-oriented classes and routines suited to each of our interests. For the last two winters I developed a much stronger base for the cycling season, improved form on the bike and had a great time learning and working out with other cyclists. Giulia brings a scientist's rigor and understanding, a coach and mentor's motivation and an infectious enthusiasm for life to all she does with her clients and friends. Bravissimo!
A Happy Client | Cycling

In my experience, trainers are a bit like voodoo doctors. Do exactly this and exactly that and I'll put a spell on you to make you fitter. Not Giulia though. She really understands the physiology and the psychology of becoming fitter and faster. It's hard work but you work with her not for her, with regular feedback and consistent attention throughout. Excellent experience all around. Highly recommended.
Peter | Cycling, Strength Training

I would best describe Giulia's approach as energetic, motivational and results driven with the bonus of making it balance with the real world challenges we all face.
Cathy | Personal Training, Running

I started working with Giulia a year ago and I've had such a positive experience. When I began working with Giulia it was after experiencing a running injury to my leg and I've continued working with her because of the awesome results. I feel positive every time that I work out with her that I am doing exercises that will help me become a stronger, healthier individual. Plus, I'm happy to say she's helped get me back out on the streets running pain free!
Robert | Cycling

Giulia's approach to coaching is perfect for me, she provides a very specific and scientifically-designed training calendar, but at the same time is able to give me lots of personal advice to supplement the workout schedule. Her approach is rigorous but also adaptable to my busy work and family life. She's made me a better cyclist and I enthusiastically endorse her coaching services.
A Happy Client | Golfing

Personally, when I started training with Giulia, I had a strained rotator cup. The pain made it hard for me to sleep at night. Within a month I forgot about the pain and I was easily doing 3 sets of 15 men's push-ups every session. In golf, I am now getting an additional 10 yards with my driver.
G.M. | Personal Training

Giulia is a great coach because she cares about you and is knowledgeable about body mechanics, nutrition and she has a tool box of exercises to keep you in shape. You will never get bored. Her educated blend of exercise and nutrition makes for maximum improvement. If you are recovering from an injury or trying to maximize your performance in a sport, she is the one that will get you there.
Steve

AGE: 50

Giulia Isetti is amazing and truly uniquely qualified to be a personal trainer. Her routines are informed by her total mastery of muscle mechanics, but her training goes way beyond muscle building. Giulia's incredibly deep understanding of nutrition and human bio-chemistry (she's got a PhD!!) was critical to my seeing amazing results in the areas of muscle tone, strength and endurance. I'm a 50 year-old lawyer trying to stay in physical shape to be a water-skier and professional drummer. When working regularly with Giulia, I feel as though (and I am often told :-)) I have the body of a 30 year-old. I'm absolutely serious.
D. C.

Working with Giulia is about lifestyle and quality of life. The aging process and a hectic lifestyle leave room for little else. Giulia treats me as an individual, she truly is a doctor who cares for the whole person. In 18 weeks the results are all encompassing: improved sleep, balance, and concentration, I've even found muscles I thought were long gone and am losing about a pound per week. She has provided me with nutritional counseling and continues to monitor my progress regularly. Working with Giulia for personal training is one of the best decisions I've made!
A happy client

As I near retirement age, I began working with Giulia last March at the suggestion of my wife. I had considered myself to be in relatively good shape for someone my age, had been walking fairly regularly for years, and had no idea that Giulia's very reasonable strength training and conditioning exercises would have so many positive results. I now feel much better overall, my energy level has increased, and I've even lost some inches in my waist.
M.F.H.

Giulia is very knowledgeable, always very personable and professional, and has the ability to motivate me to perform at my potential. In addition, she always modifies my workout routines to compensate for any ongoing or occasional physical limitations. Giulia Rocks!!!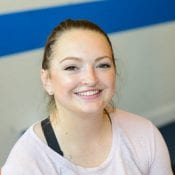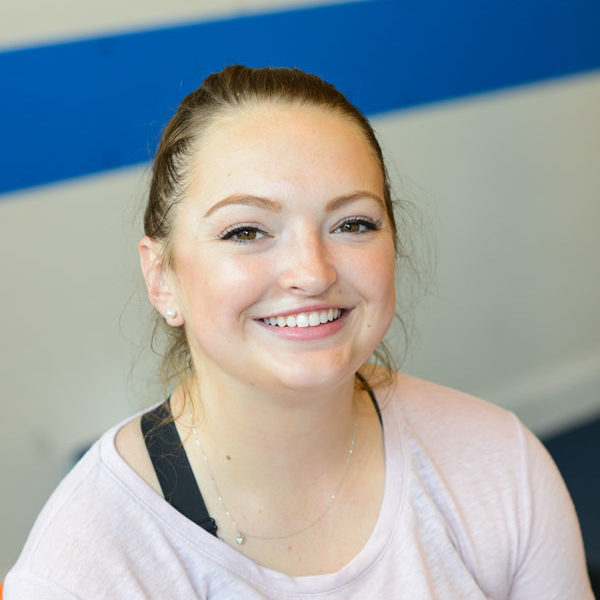 Anna R. | Personal Training

I learned about G through her work with my younger sister; I began working with her myself in the summer of 2017. I had returned from my sophomore year of college, and I had the goal of rebuilding my body and spirit after a few devastating illnesses and countless rounds of damaging antibiotics. Giulia helped me clarify my goals and helped me navigate the winding path to wellness, a path that we are still navigating to this day. Giulia has helped me learn how to properly fuel and rest my body in order to stay healthy. We have also worked on regaining my strength and stress reduction. I have met several dear friends and mentors in the few short months that I have been working with G. The studio is a place I look forward to going and I know that I will always walk out feeling better than I did when I walked in. I would recommend G and her services to anyone of any age who is motivated to live a healthier and happier life.
Joseph M. | Cycling, Personal Training

I first started working with Giulia in 2011, when I was training to ride a century. She was a great help with that, but there were other bonuses: I lost 30 lbs. and have kept it off. I started a weekly workout program with her, and I felt much better.

In May, 2017, I started Giulia's individualized program, in which she gives me workout routines for doing every day in the studio, except for one day of rest every week. This program has been a boon to me. I am in much better shape. The daily routine she emails me help me to be more disciplined in my efforts. I always feel better after completing my workout than before I start. My vulnerability to periodic depression has diminished considerably. Another plus: the studio for me has become a friendly community. I love the energy of the teens she trains, and I feel a camaraderie with the adults I see there frequently.
Hillary M. | Running

Training with G means training with purpose. When we first started working together, she asked me questions I hadn't even considered: What were my goals? Why did I want to work with a trainer? And I didn't get away with just saying, "To get in shape." We worked together to formulate a plan according to my values, the amount of time I could reasonably commit and what I really wanted to achieve. We even identified a long-term goal… my first marathon! In the past, I would not have set my sights that high, but now I'm confident it's achievable through our training partnership.