Giulia has been working with our children for over 4 years now. Brooke (19), and Blaire (17), were the first to start with her years ago. Liam (16) has been working with her for a year now and Brynne (14) has been working with her for 2+ years.
All have had wonderful experiences with amazing results. Brooke, our oldest, is an accomplished swimmer, now swimming at The United States Naval Academy. Giulia helped her train throughout her high school swimmer career, in addition to helping her prepare for the rigorous physical demands the Naval Academy requires.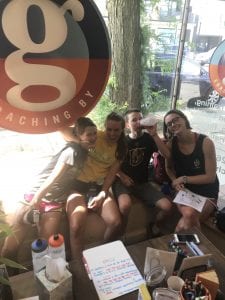 Blaire, also a swimmer and water polo player, decided to make a change and try rowing. Giulia was instrumental in helping and guiding Blaire with that jump over to a different sport, while continuing her training. She currently rows with the Chicago Rowing Foundation.
Liam has been a hockey player since age 5, and also lacrosse player in recent years. He gave up hockey to focus on lacrosse. Giulia has helped him train and get stronger to help him be competitive in lacrosse.
Brynne is a AAA hockey player. Very demanding. Giulia has worked extensively with Brynne to make her stronger off the ice and therefore faster on the ice. Amazing results.
Giulia strives for many things with her clients in their training. I believe the main difference with Giulia and what sets her apart from other trainers is The Relationship. She wants to build and have a relationship with each of her clients. Any trainer can have you show up, and give you sets and exercises to do, run you through them, and you are done.  This is not Giulia. G strives to establish relationships with these kids/teenagers so she can learn what their goals and aspirations are, and help them achieve them. I secretly call her the "teenage whisperer."  She understands teenagers 110%.
The second difference with my children working with G, is she is the whole package. She talks "exercise, body, mind, nutrition, goals." I can talk about what foods they should or shouldn't eat and it goes in one ear and out the other. When G talks to them about nutrition, they listen. Now, granted, she is MUCH more knowledgeable than I am, with a lot more degrees in this field…, but still. I very much appreciate that she can explain "the science" and reasoning behind fueling your body for what it needs, both pre and post workouts.
Finally, I love how Giulia helps them achieve all their goals. Short-term, long-term. Do you want to make a particular team?   Do you want to make varsity?  Do you want to try a new sport? Do you want to play collegiate sports? She works individually with each of her clients to really dig in there and understand each of them, find their goals and help them achieve them. When you look on her wall in her studio, you will see over 20 collegiate flags.. each flag representing a student athlete she has trained and sent off to college.
Bottom line, I am sincerely grateful my children found Giulia. She has been instrumental in helping all of them achieve their goals, both short-term, and continued long-term. She has helped them be the best person they can be, both physically and mentally. I can not recommend Giulia enough to other athletes!