The holiday season is a challenging time for fitness. Are you anticipating the food coma associated with overeating at Thanksgiving? How about the beginning of the holiday party season? Traveling, cold weather, and family stress can also add to the madness.
The Struggle is Real!
The social pressure around family dinners, office holiday parties, platters piled high with pie, and endless streams of alcohol prove to be too much for many people. Traveling leaves people turning to fast food options and it is also tempting to indulge in family members' famous dishes. These few healthy holiday eating strategies from Coach G will help you navigate this tricky time of year, avoid mindless consumption, and leave you feeling successful but not restricted.
1. Relax and don't plan to be perfect.

Try to enjoy the time that you have away from the grind. Recovery is an important part of maintaining optimal functioning. Relaxing will allow you time to breathe and be more conscious of what you are choosing.
Remember that success is about what you do most of the time, not what you do some of the time. If you stick to your plan 80% of the time this allows the freedom to indulge when the opportunity arises. You will also feel more accomplished knowing that you are living towards yourself.
That said, don't binge. Decide ahead of time what you want your plate to look like and then go for it.  Pile your plate with salad first, then turkey and vegetables and then small amounts of those mashed potatoes and other sides.
2. Cook something for your holiday gatherings.
This strategy allows you to prepare food and plan to eat something that you cooked and enjoy. Think about throwing something in the slow cooker like a pork roast or chili or bring a platter of smoked or grilled fish. There is rarely enough protein at holiday parties and having some protein will leave you feeling satisfied and limit the trips to the dessert table.
Vegan or vegetarian? This should be your jam—bring a dish you love to cook and eat and help educate your carnivorous pals on the pleasures of plant-based eating.  
3. Plan to move your body.
Everyone can enjoy a post meal walk.  For those seeking higher intensity try a tabata interval session with burpees, or a variety of movements like squats and pushups. Go for a run with friends. The more the merrier! Find a yoga studio or local gym that allows drop ins and schedule a few visits with friends and family that are in town. Take the family dog for a walk. Suggest a friendly game of capture the flag or tag football. There are endless possibilities and fun ways to get the whole family involved.
Deciding in advance what time and where you will engage in activity is key to success, though.  Set up accountability with your cousins or siblings or friends to be engaged in activity at least 30 minutes a day.  
4. Think about what you'll eat on travel days.
Plan ahead! Take your Coaching by G water bottle with you and fill it in the airport.
It is also usually really difficult to find fresh veggies or protein when you travel so plan to take those with you. I always take a container of chicken and avocado when I travel.  I also cut up raw veggies so that I have a crunchy snack. Take food you enjoy so that you will not be tempted by snacks on planes.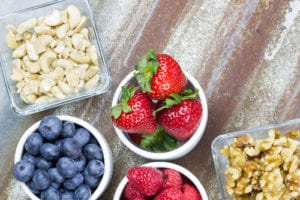 If driving, plan to keep a stocked cooler with water and your favorite snacks in the car. Holiday travel can be a nightmare with delays and you will not regret being prepared. 
Some healthy snacks you can keep with you:
5. No need to skip it, just do dessert right.
How to shut down those sugar cravings? Once you start overindulging it can be really hard to stop. If you have eaten plenty of protein and fresh vegetables the likelihood of desiring super sweet foods will be diminished. Grab a large glass of water and drink that before eating sweets.
Peruse the desserts first and decide what you really want to taste before dinner.
Deciding in advance can really stem the tide when dessert rolls around. Knowing what you want is huge!
With these simple, healthy holiday eating strategies in mind, your temptation to indulge and over-eat will be eased, and you'll end up having an even happier holiday season.
Go forth and enjoy!! (…in moderation!) 🙂
~Coach G