"Both my parents were athletes, my mother a triathlete and my father a football/rugby player. I have always been an active kid, however, I didn't really get into sports until middle and high school. I did things like ballet and gymnastics, was "encouraged" to quit basketball and soccer in second grade because of my lack of engagement and coordination, and got DQ'ed from a swim race when I did TOPS swimming for doing butterfly style wrong.
Seeming at a standstill regarding what sport was right for me, I became interested in track and field, specifically pole vault, in high school. Going to a school with 4000 kids, the pole vault team is strong. A handful of thrill-seeking teenagers with a passion for running with long bendy sticks down a runway, then sticking it in a hole and flying upside down over a bar. Pretty fun, right? Being a part of the OPRF pole vault team has brought me nothing but joy and accomplishment, even when I don't hit a PR at a meet or have the best jump day. However, I always felt like it was missing something. When in such a competitive environment, where rivalry and pressure are constantly looming in the air, every athlete needs a sense of intimacy and support.
This is what OPRF track and field lacks. Having such a massive team, there is no individual attention given to the athletes by the coaches and in areas like the weight room, we are essentially left on our own to figure things out and hope to become better at our sport. The day I almost blew out my back power cleaning alone in the OPRF weight room due to the lack of supervision and guidance by the coaching staff, I knew I needed another coach. One that knows each of their athletes like the back of their hand. Knows their strengths, where they can improve, where they flourish, and how they can exhibit their talents. One that preaches about the benefits of knowing yourself as an athlete and how to perform at your best. One that advocates and talks openly about fueling a growing athlete's body correctly, and not overtraining or working to the point of exhaustion. And that is Giulia.
I started training at her studio in October and I have seen and experienced nothing but positivity and comfort. In the beginning, I was weak. I hadn't lifted weights in months and quarantine got the best of me in that I became extremely out of shape, couldn't bike for more than 30 seconds without feeling like I was going to pass out. I had no knowledge of sports nutrition and was depending on a granola bar to get me through 2-hour pole vault sessions where I wouldn't be able to hold onto the pole due to compiled fatigue.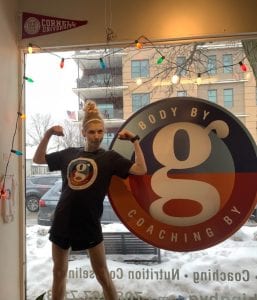 A huge push for me was a better hope for my future. I am attending the United States Coast Guard Academy next summer and I knew that to be able to be a strong, powerful, military leader, I would have to put in the work. Biweekly seven o'clock in the morning weight lifting sessions before school over the next few months, some nutrition talk, a few containers of protein powder, and some killer High School Musical soundtrack accompanied circuits later, I have become a completely changed athlete.
Having a coach that cares about me not just as an athlete but as a friend is a game-changer for someone hoping to really exercise their strengths (no pun intended). Giulia gives the utmost respect to every single person that steps foot on her floors. Regardless of race, gender, age, political identity, or any other personal attributes, she is an open book and open arms, willing to educate, teach, and nurture all types of people. Never once have I been part of a more diverse and encouraging environment. All ages, body types, and athletic abilities thrive at Giulia's studio. And did I mention the dogs? Roadie and Lily don't ever fail to cheer up (or interrupt) anyone trying to do any type of floor exercise. But dogs are never an issue. Being a part of this community has been life-changing and I can't thank Giulia enough for what she has taught me. Because of this, there is no doubt that you won't catch me at the studio whenever I can be for the next five months I have in Oak Park." – Sarah Katz